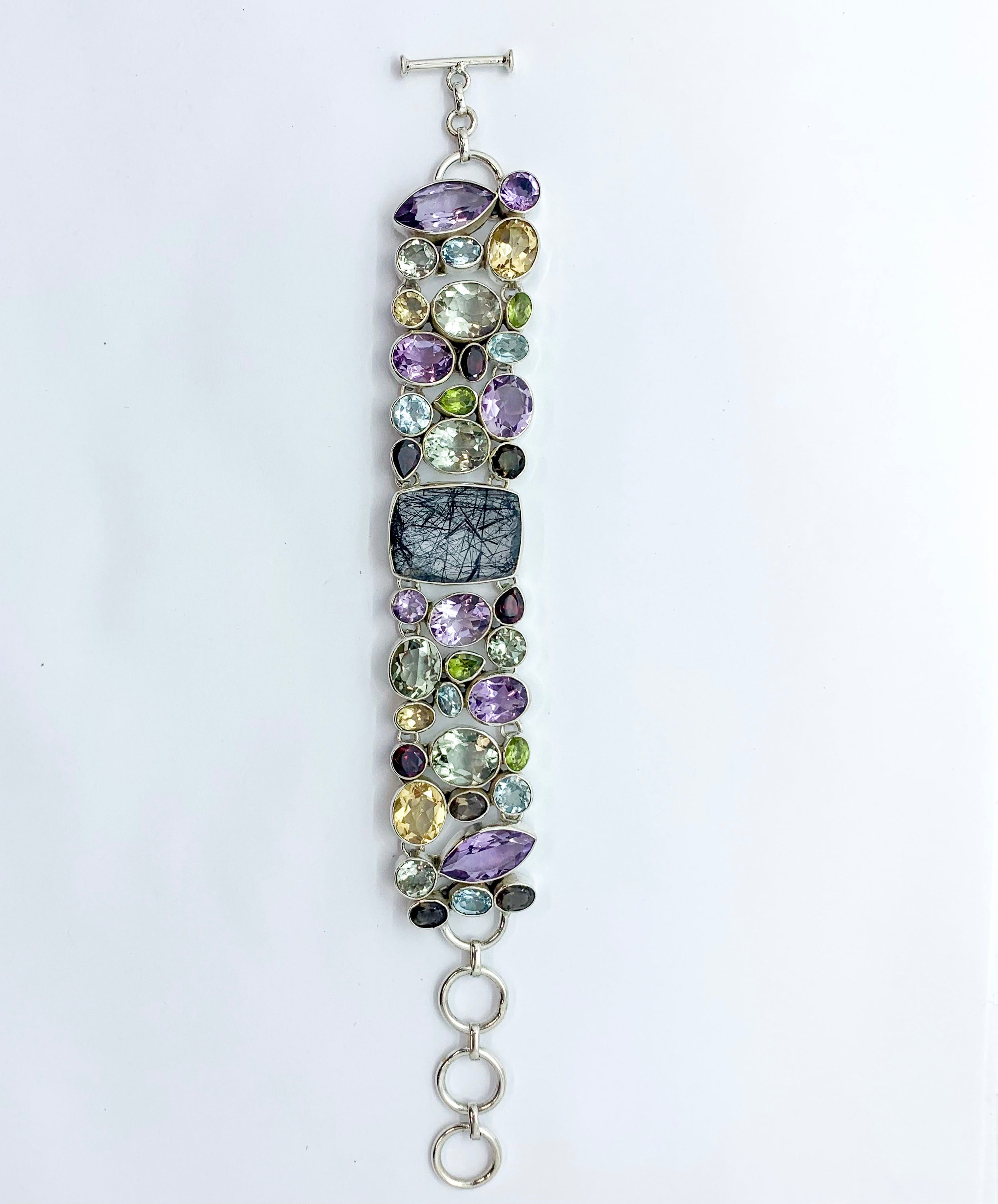 Multi Stone Bracelet With Faceted Tourmalinated Quartz,Smokey Quartz,Blue Topaz Garnet,Amethyst,Peridot $550
Sterling Silver
Tourmalinated Quartz combines the benefits of Tourmaline and Quartz. This is an effective grounding stone that strengthens the body's energy field against the environment and energy parasites. It also harmonizes polarities and can transform negativity into positive energy. Thus it is very useful for those dealing with self-sabotage.
Amethyst is the stone for spirituality and contentment. It can give the owner inner peace and tranquility. It bestows stability, strength, and invigoration. It has been used to encourage and support sobriety. It is an excellent stone for one who is attempting to find freedom from addictive personalities (from oneself or another).

Peridot is a great stone for romantic relationships. It adds light and brightness to life and helps one to receive abundance on all levels. It can be used in animal communication and healing and it also strengthens tolerance.
Smokey Quartz can be used to gently dissolve negative energies and emotional blockages. It alleviates ear, anxiety, depression and can be used to initiate a powerful force field which will absorb any forms of negativity. Smoky Quartz can assist with problems in the abdomen, hips, legs and even headaches.
Garnet is a highly protective stone as it provides a barrier of charged vibrations which repel negative energies on contact. It has also been used for protection after dark. A high energy stone, Garnet aides in love, compassion and imagination. It aids the base chakra give energy to the body.
---
Multi Stone Bracelet With Faceted Tourmalinated Quartz,Smokey Quartz,Blue Topaz Garnet,Amethyst,Peridot $550